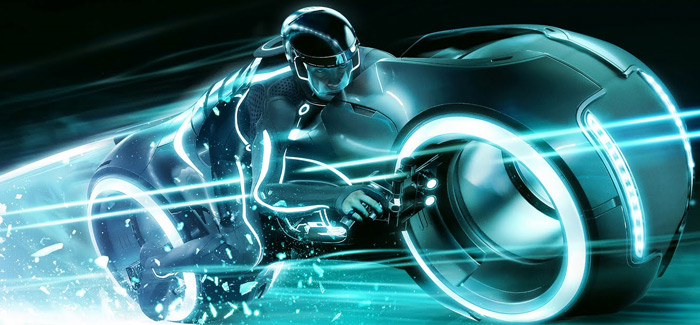 I am no big fan of the original 1982 Tron movie. Although it had pioneering CGI for the time its script was too far fetched. Syd Mead designed the famous light cycles but like most of his creations they are detached from any actual engineering or motorsport content. They look as if they want to impress people that don't have any special interest in motorcycling. After 28 years there is now a new Tron film ('Tron Legacy') and instead of Syd Mead, the major designer for the new film is Daniel Simon. He is mostly known from his excellent work on the 'Cosmic Motors' concepts and the book by the same name. Where Syd Mead had a mostly artistic view, Dan Simon, himself an avid motorsport fan has an approach mostly based on engineering and inspired from the world of high technology.---

The Tron Legacy movie will be in the theaters in December but you can have a glimpse to the new Tron world from the
official trailer
. After 28 years the graphics are as expected vastly improved, however the main difference (from what can be seen through the trailer) is the realism and intensity that the Light Cycle scenes have. Daniel Simon retained the basic look but the heroes appear to really ride and be challenged by the bikes and the -virtual- environment where in the original film they could as well be playing pac-man.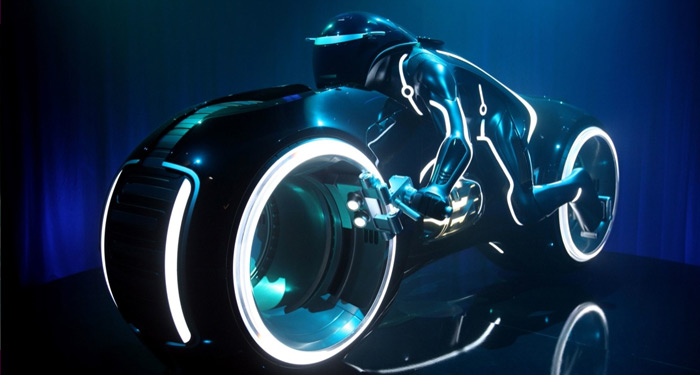 The Light Cycle concept is very non-functional as a bike and the fact that in the trailer the race is engaging and even realistic, is a great achievement. The new design also is very well thought in its own way.
Daniel Simon is an experienced designer, he had worked in big automotive studios and he is no stranger in science fiction. His collection of 'Cosmic Motors' (image above) is excellent both in vehicle design and in the staging of every frame. The accompanying sketches are also very interesting; they show the process behind each design and all the alternative ideas.
I certainly recommend his book to anyone interesting in industrial design, motorsport and science fiction.
Some links:
About Daniel Simon:
http://www.danielsimon.net/
http://www.cosmic-motors.com
(website about the book)
http://cosmic-motors.blogspot.com/
(his blog)
About Tron Legacy:
http://disney.go.com/tron