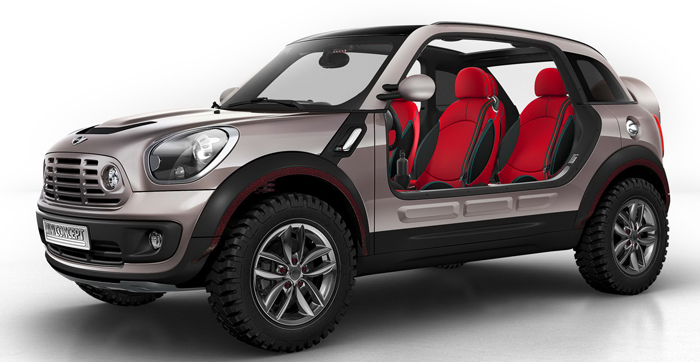 These are the first renderings of Beachcomber concept that MINI will show in the Detroit auto show in January. It is an evolution of the Crossover concept and a prequel of the actual MINI SUV that will soon enter production. The Beachcomber's main theme is a tribute to Mini Moke of the 60's. However instead of using a bespoke simple utilitarian body like its ancestor, this concept car is obviously the fore coming SUV without doors and roof and with the added 'concept car' flash details.---

In comparison to last years Crossover concept the Beachcomber appears almost production ready. Body panels, bumpers and exterior parts will be almost identical in the final product. An interesting detail is the return in a more sculpted front end like the one in mk1 BMW's MINI. The headlights will probably be fixed in the car's frame instead of the bonnet clamshell a design that made mk2 MINI cheaper to produce and lighter although visually clumsy.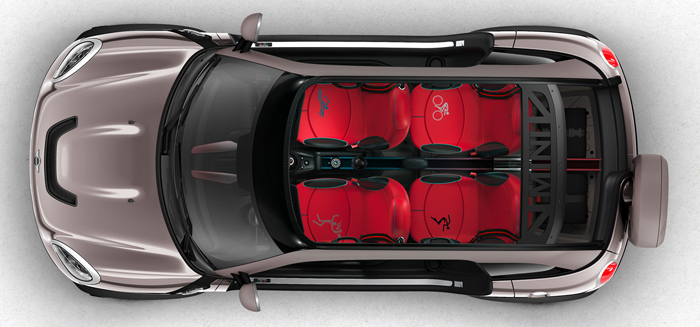 The interior appears also production ready if one can see past the 'concept car' decoration of fuzzy screen graphics and speakers/compasses where the air vents should be. Apparently air vents are useless to a car with no doors and roof.

The water proofing of the interior with plastic panels and what appears to be neoprene cloth on the seats is a very interesting concept that if done correctly should be very practical but it is unlikelly to reach production. Maybe companies are not happy to invite abusive behaviour to their products by selling them as water or dust proof, but there surely is a market for that.

The most anticipating design element will be the number and the kind of doors the production car will have. The 2008 Crossover concept had an asymmetrical body with tandem conventional doors on the right side and pillarless opposing ones (like the Clubman or the Mazda RX-8) on the other. The rear doors was a split tailgate like MINI Clubman. Beachcomber escapes this by having no doors and the absence of a B-pillar may be a final design clue or just concept treatment. The sketches and renderings however show both a opposed opened cloth doors and what appears to be a cloth cover with buttons (press release say that all covers can be stored easily in the boot).

The new MINI and especially the SUV, the biggest MINI ever is huge next to the original and the smallest one, the MOKE.

Another similar concept by BMW was the 2002 X-Activity concept which was an almost production ready X3 with no roof or rear window:

press release and more photos on autoblog.com