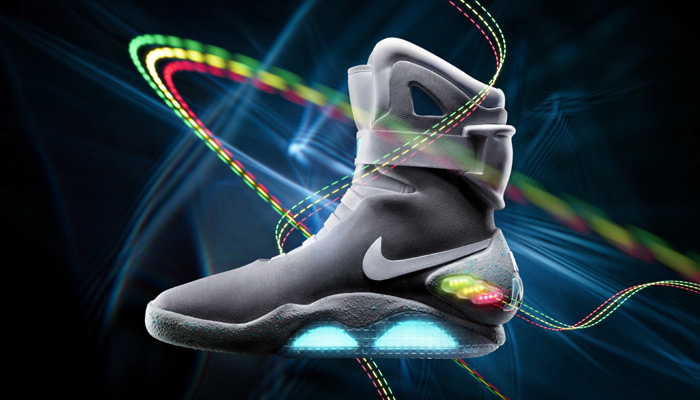 In the movie Back to the Future II Marty McFly (played by Michael J. Fox) travels to the year 2015 where one of the futuristic gizmos he encounters is the Nike MAG shoes that tie themselves and have bright leds. Four years before actual 2015, Nike is releasing a special edition replica of those shoes that apart from the automatic tie-up (although some patents applications speculated that) are exact replicas of the movie prop.---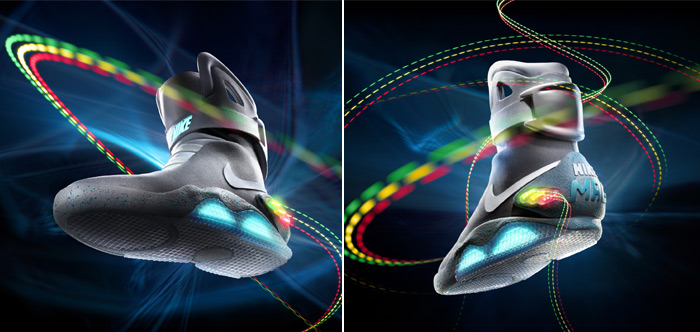 Only 1500 pairs will be made and all of them are auctioned through eBay with all net proceeds going directly to The Michael J. Fox Foundation. The profits will be added to another 50 million dollar donation to the foundation that helps curate Parkinson's disease. The auction has already started and it will end at September 18, prices are in the area of several thousands dollars. You can buy them here:
http://www.ebay.com/sch/auctioncause/../

There are two significant design related aspects on this release. The first one is the gradual establishment of the 80's as a fashionable era. Fashion largely follow a quasi-periodic timeline, what was fashionable yesterday seems bad-taste but what was fashionable the era before yesterday is fashionable again. 30 years looks like a reasonable amount of time to overcome the immediate fashion guilt and look at the past with nostalgia. The 80's era was dominated by a futuristic aspect that is difficult to age well. Computer technology was just becoming mainstream and new materials were used (and abused) in fashion. Those shoes would have been definitely considered kitsch a few years ago. Today thanks to their huge price tag they are cool. If they were sold at 100 dollars they will probably considered kitsch even today but that is definitely going to change and the reason is that:

This
electroluminescent
component comes as a wire, tape or panel. It consists of a copper core a phosphor coating, a fine copper wire and a protective sleeve. High frequency and voltage electric current makes it light up and become a versatile lighting source. They are very cheap and efficient and can be easily integrated to clothing. People now are used to charge mobile phones or other devices, charging their clothes or shoes wouldn't pose a burden. Small LED lights are also used everywhere, clothing could be just another application.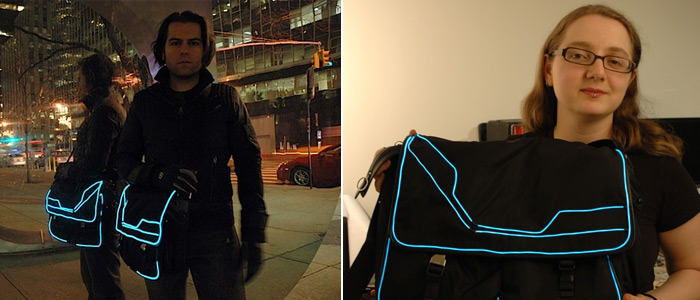 One of the early adopters is the
tron-bag
project developed by
Limor Fried
(or ladyada) and
Becky Stern
. Inspired by the Tron movies it can be made quite easily and at low cost. The use of EL wire, tape or panels is still quite exotic and geeky but it will become mainstream very soon. The technology is here, the cost is low and the only thing still lacking is appropriate product placement and maybe some really useful applications like clothing for cyclists or bikers. Nike's promotion is certainly pushing things forward. If you like to experiment with EL you can start here:
http://www.adafruit.com/category/50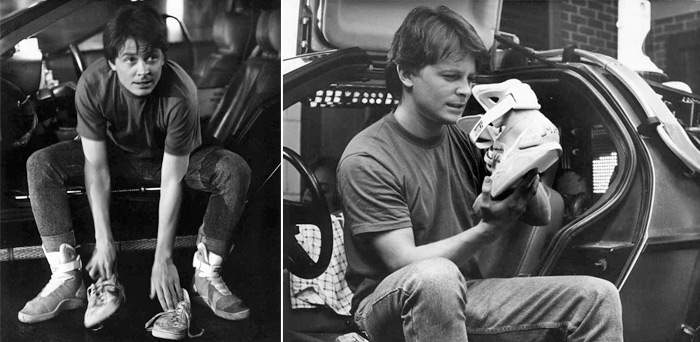 In the photos above, M.J.Fox during Back to the Future II filming, with another 80's icon, waiting dormant for someone to re-launch it, the Delorean DMC-12.
(MAG images from Nike, TRON bag and EL component images from Adafruit Industries and
MAKE blog
)