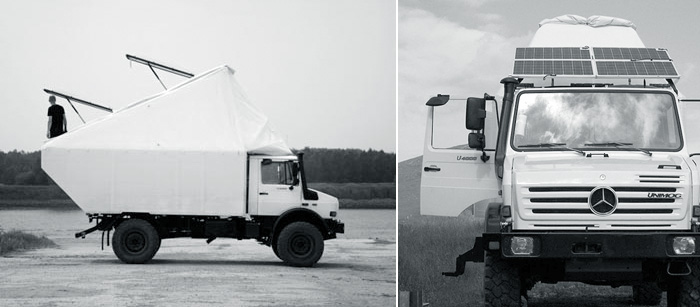 Motorhomes or RVs haven't evolve much for decades. They may have good quality materials and equipment no different from a small house but likewise they are designed like a small house that simply is on top (or get towed by) a car or truck. There must be a better design because a motorhome will eventually be used differently than a house and as obvious as this sounds the general motorhome companies seems to haven't notice it. Some years ago I saw the
livingis.be
website where these images are from. It is a motorhome based on a Unimog U4000 off-road truck. Instead of the conventional construction it has a accommodation structure made from riveted aluminum spars and panels, a foldable roof and a very efficient and practical interior layout.---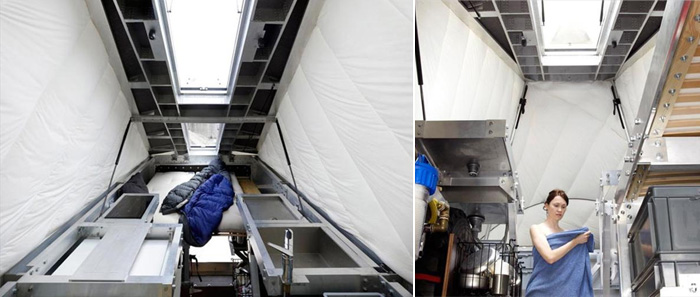 Inside you won't find wooden closets or drawers because this is no miniature house. It is designed more like the interior of a space station or space shuttle where every wall and surface is exploited. Equipment like kitchen appliances or storage bins is arranged in the outer 'walls'. Depending on the use it can be transform accordingly, for example there is a small bathtub (!) under a wooden panel that forms a table or sitting area when closed. There are all the facilities one may need when living outdoors without any useless 'luxury'.

The roof opens up easily and with a canvas surrounding increases the interior space.

In the sketches above you can see how the aluminum box is attached to the Unimog ladder frame via a sub-frame (green color)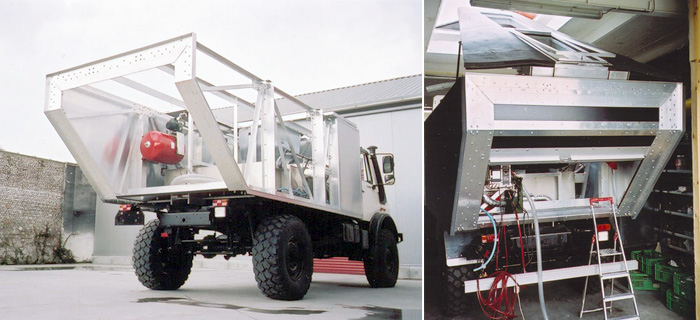 The aluminum box looks very well made and its design is both lightweight and strong.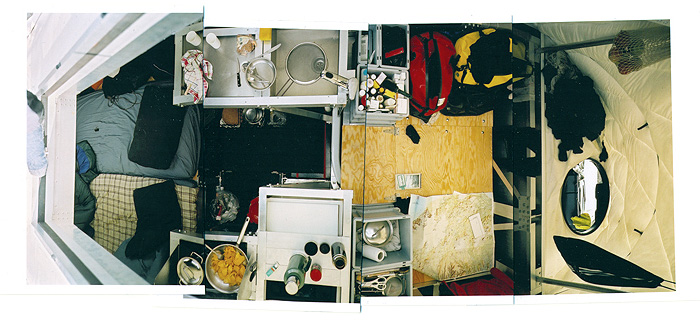 In the photo above there is a top view of the interior.
Unfortunately the
livingis.be
website doesn't have any information or details. It is also quite old and hasn't been update for some time. The Unimog RV is an excellent work and maybe its creators should commercialize their work, from the photos it looks like they have enjoyed it through many journeys.