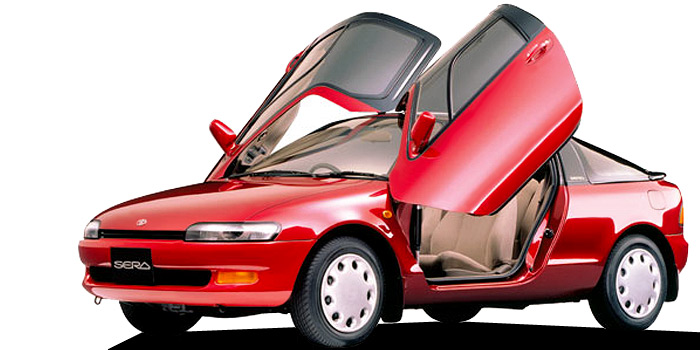 The small Toyota Sera coupe would have been long forgotten like the mechanically identical Paseo but its design and especially its doors gave it a timeless appearance that looks futuristic even after 20 years. The Sera used the mechanical under-printings of the Starlet and was introduced as a niche model only for the Japanese domestic market, however many cars found their way to RHD countries like UK and Australia. It was in production for 6 years and just below 16.000 Seras were made in total.---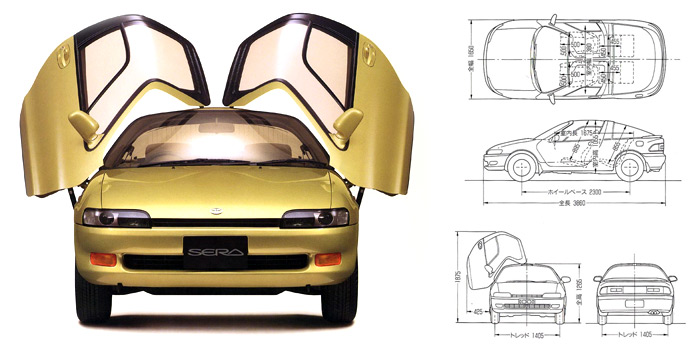 The exterior design was strongly influenced by Honda CRX and Nissan 200SX (180/240SX in other markets) although Toyota's approach was more simplistic and the Sera has aged much less than the other two coupes. The doors were the reason the car was made. This design had been used in one way or another to many racing cars in order to allow easier access to a very cramped cockpit. In the Sera each door incorporates almost half of the roof and by titling forward and outwards allows a very easy access without blocking the entrantΒ's head (like a gullwing door).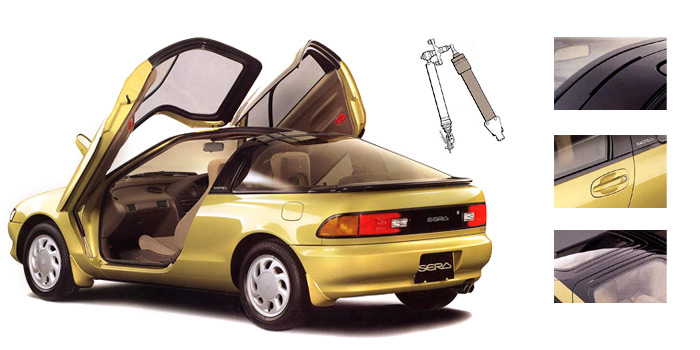 The size and weight of the doors demanded a small hydraulic ram (like that of the 3rd/5th door found on many hatchbacks).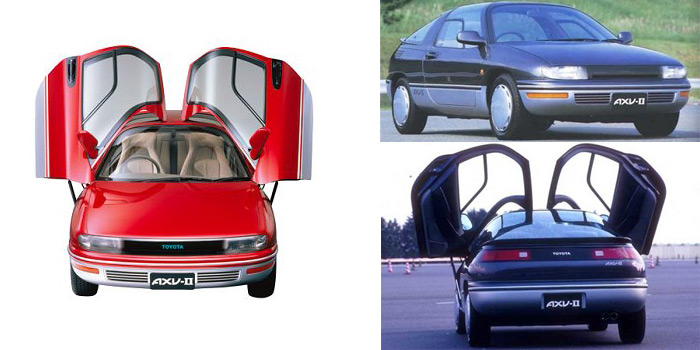 The AXV-II concept was introduced in 1988 and it was almost production ready. It paved the way for the production version.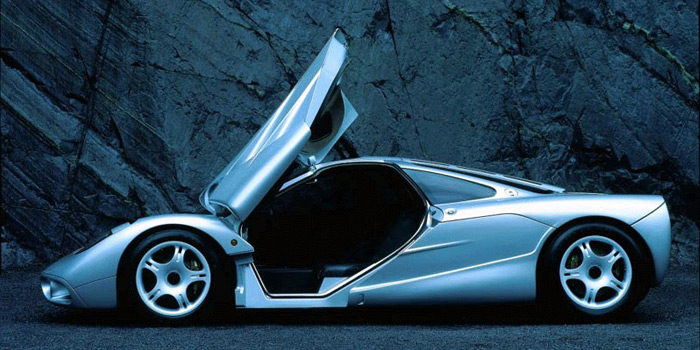 Gordon Murray used a similar approach in the McLaren F1. He was inspired from a US concept car he had seen in a styling publication and when McLaren realized that Toyota had already a production version they closely examined the Sera in order to study the packaging and the bulk of the mechanism.. The central driving position of the F1 was greatly benefited from the ease of access and the CFRP monocoque of the F1 allowed a further improvement of Sera's design by incorporating a part of the lower sill to the door.
Many other models (mostly supercars, like Saleen S7, Ferrari Enzo and McLaren MP4-12C) use similar designed doors and quite possibly there would be more in the future.
(Sera/AXV-II photos from Toyota - F1 photo by McLaren)