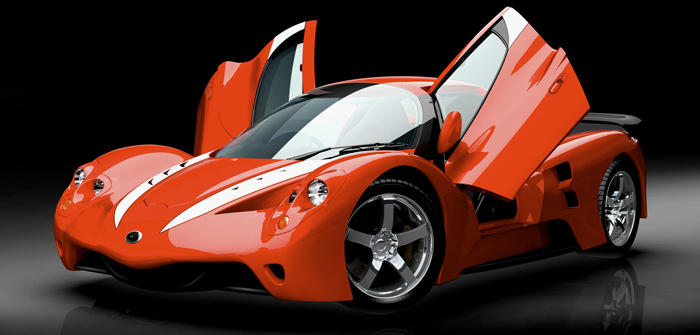 Supasse-V is a new sports car from the small (and largely unknown outside Japan) company Suzusho. It is a very high-tech effort and a very big step from the kit Lotus-7 clones that Suzusho is currently sells. The Supasse-V is similar in concept with the Lotus Exige. It uses a direct injection turbocharged 2.3lt Mazda engine (from Mazda 3/6 MPS) and has an aluminum frame.---

It is designed by Kenji Mimura and it looks like a mini Group-C racer. Its design has a lot of classic supercar clues and although in places it isn't very polished, it looks at least in the same class with the Exige and far away from any -simpler and cheaper- kit car. It has almost the same dimensions with the Exige (it is slightly larger, especially in width and wheelbase) but it weighs only 850kg, about 100kg lighter than the Lotus (it is even lighter than the basic Elise). With 267ps from the stock Mazda engine it will be very fast.

Like the Lotus it has a chassis with a central bathtub from extruded aluminum and also aluminum front and rear subframes where the suspension, engine and mechanical parts are attached. For rollover protection there is a steel rollcage.
The radiator for the engine is in the front placed in an almost 45deg angle and the intercooler is placed in the rear, just below the rear small wing.
The suspension is as expected double wishbones in every wheel with a linkage mechanism that transfer the loads to horizontally placed coilovers.
The packaging and overall design looks very good and it has the potential for more powerful versions or racecar derivatives.

The interior is simple but well designed and as usually with very small manufacturers one can tell from it, how serious the constructor is about its product from a consumer approach. Suzusho is certainly has big plans for this car.
The Supasse-V will enter production in summer of 2010 and its price will be from 50-80.000$. However it isn't clear if it will be exported and if so to which countries.
The official website:
http://www.suzusho.com/motorshow09/
More photos:
http://www.carbodydesign.com
,
http://www.autoblog.com