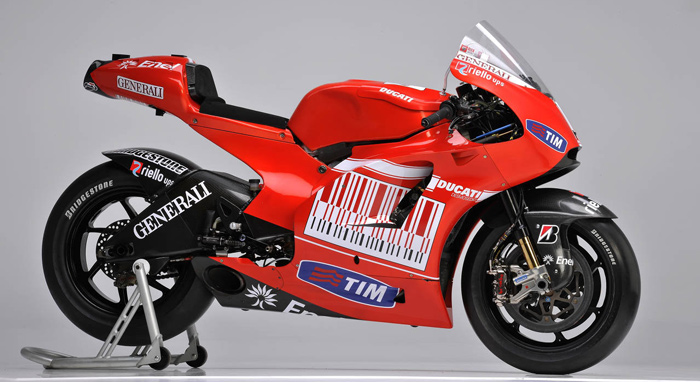 Casey Stoner and Nicky Hayden will ride this new GP10 Ducati in the 2010 MotoGP championship. GP10 is an evolution of last year's bike. The two most improved areas are the aerodynamics and the engine. It was designed with contribution from Alan Jenkins, an F1 veteran and it should be adapted for the new rules that restrict the engines that can be used for the entire season to only six instead of almost one engine per race in 2009.---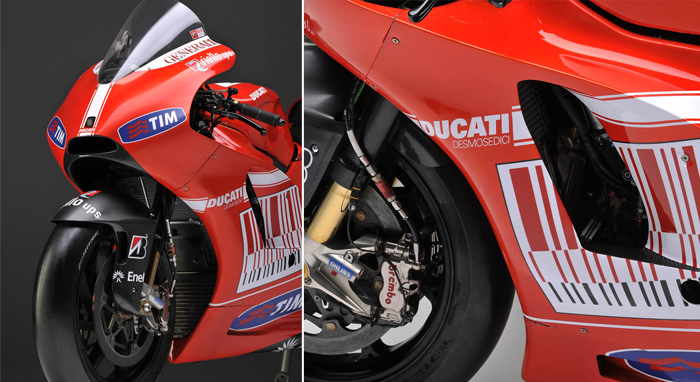 GP10 uses a V4 like all Ducati MotoGP bikes. This year's change is a return to a big-bang fire order in order for the bike to become friendlier for the rider (especially Nicky Hayden who wasn't well adapted in the previous year) and improve rear-wheel traction, especially when exiting a corner. The uneven firing-order has a power penalty and the team is working hard to eliminate it.

The more aerodynamic shape will compensate for the possible power loss. Like previous years Desmosedici iterations it is an evolution but it has interesting details, like the smooth integration of the rear exhaust in the tail. The cooling is also improved in order to keep the engine healthy for many races. GP10 will use the full composite (CFRP) frame and rear swingarm like its predecessors.
More images and some videos from the launch here:
http://www.asphaltandrubber.com/