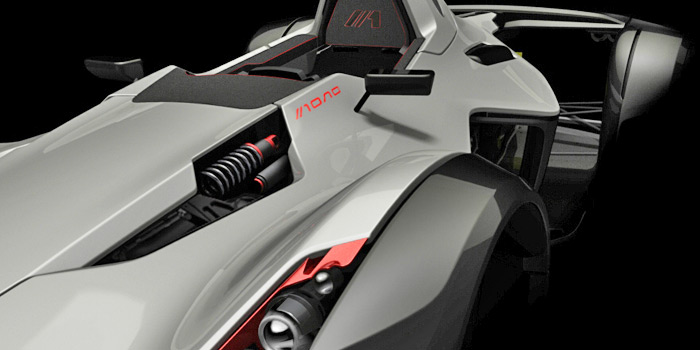 Mono
is a road-legal trackday car and it is the first project of
BAC
, a new company that is formed by a small group of experienced engineers and designers. It is named by its centrally single passenger layout and it has some really impressive specifications that could propel it to the top of the very popular market of highly specialized trackday cars.---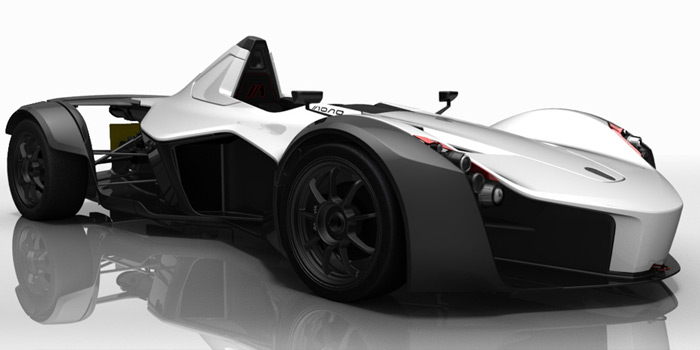 BAC
was keen to exploit the one-seat layout on
Mono
's design. The car is similar to an open-wheel single-seat racecar, with a carbon fiber reinforced plastic chassis, a longitudinally mounted natural aspirated engine and push-rod adjustable suspension. Of course there are no doors, windshield or any other comforts, but there are mirrors, lights and whatever is needed for the car to be road legal.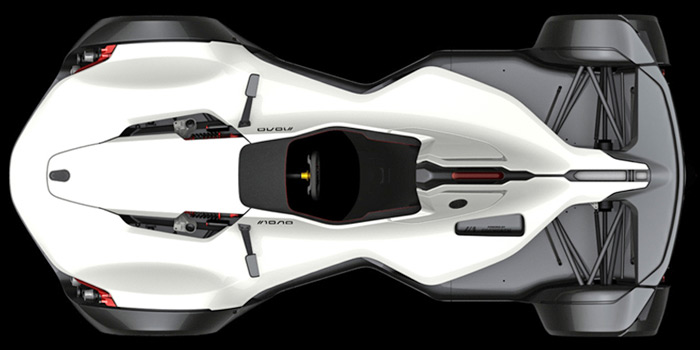 The central single seat arrangement has many packaging and performance benefits. Apart from the direct weight savings, the smaller monocoque can be more compact and light for a given torsional stiffness. Also, the wheel arches do not clash with the driver's feet and the radiators can be placed laterally. The result is a claimed kerb weight of just 540kg, much lighter than the competition (250kg or almost 50% lighter than the
KTM X-Bow
which also has a similar cfrp monocoque).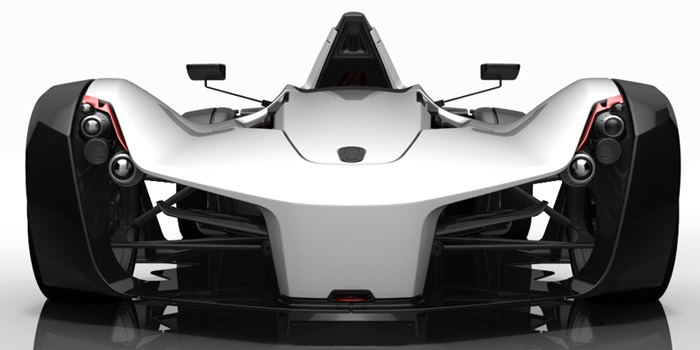 The engine is a 2.3 four cylinder provided by
Cosworth
(and probably based on a Ford commercial engine). It is placed longitudinally without a substantial length penalty because as mentioned above the driver is positioned further in the front (in comparison to a side by side two-seat layout). The weight distribution is slightly rear-biased (52%) and balanced by the wider rear tires (245/40 R17 instead of 205/40 R17 at the front). This architecture has a substantial indirect benefit, in a possible future upgrade a bigger V-engine will be relatively easy to implement and most importantly it won't change the weight distribution and polar moments of inertia.
The 280bhp of the
Cosworth
engine is more than enough and puts Mono in the same league with the competition. The power delivery and response of a naturally aspirated four-cylinder engine may be the sweet spot between a slightly brutal forced induction engine (like the 2.0 turbo of the
X-Bow
or the supercharged V-TEC of the
Atom
) and a peaky small V8 (like the
Atom V8
or the
Caparo
).

Mono
is very well designed, with a contemporary appearance and a purposeful solid like feel. The surfaces have tension and overhaul it is a little toned down but much more coherent than the X-Bow, its closest rival. It has its own character although some details look generic. The designers thankfully avoided the look of a small formula 1 even though the wheels are largely exposed. The minimalistic bodywork may spoil the ultimate aero efficiency of the car but top speed isn't the main goal, weight saving and appearance are more critical factors.
BAC
has a modest production plan of just 35 cars for the first year priced at 67.000GBP. The photos here and on the companies website may be just 3D renders but the prototype should be close to production or at least testing, photos of the actual car have already appear on the net.
You can read more about the company and the specifications of
Mono
at
BAC
's website:
http://bac-mono.com