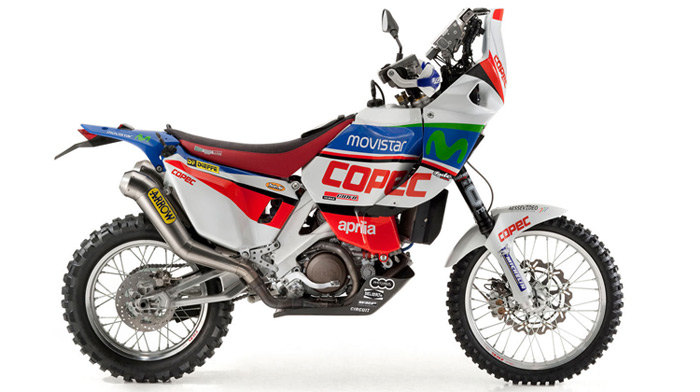 After the imposed limitation to 450cc for works motorcycles participating in Dakar rallies many thought that the new at the time enduro bikes from Aprilia were perfect for this new class. Their main advantage was the 2 cylinder engine instead of the 1cylinder KTMs that dominate the race the last years.
This year Aprilia is officially supports the
Team Aprilia Giofil
with its modified for rally raid RXV 4.5 Dakar bikes. Riders for Team Giofil will be Francisco Lopez, Paolo Ceci, Gerard Farres and Alex Zanotti.---
This years Dakar rally has already started, it is a 9000km loop that starts and finishes in Buenos Aires and pass through the mainland of Argentina and Chile. The race is held from January 1st and the finish is at january 17th. Aprilia will have a chance to prove its bikes in the world's toughest enduro race.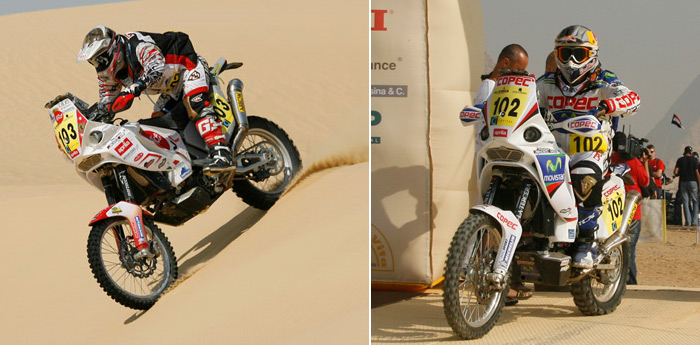 The images above are from Pharaons Rally this summer (via
Aprilia
).
You can follow the 2010 Dakar rally from its
official website
.
PS. I especially like the front fairing; it is similar to Aprilia's Rally 50L/C scooter, itself inspired from the KTM rally raid bikes of that era.