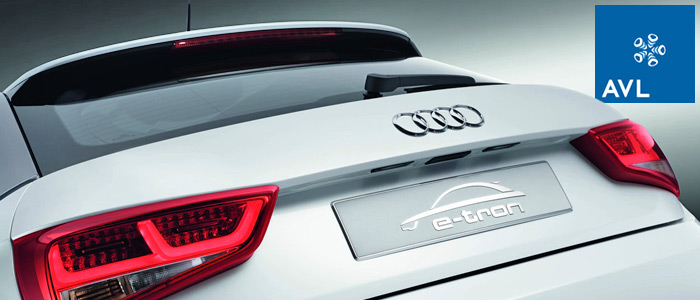 Nine months ago Audi presented its third e-tron concept car that was based in the small A1. In contrast to the other two e-tron concepts this one had an internal combustion range extender. We featured this concept at the time; you can read our feature
here
. The most interesting aspect of this project is the IC range extender, which is a wankel rotary engine developed by Austrian firm AVL.---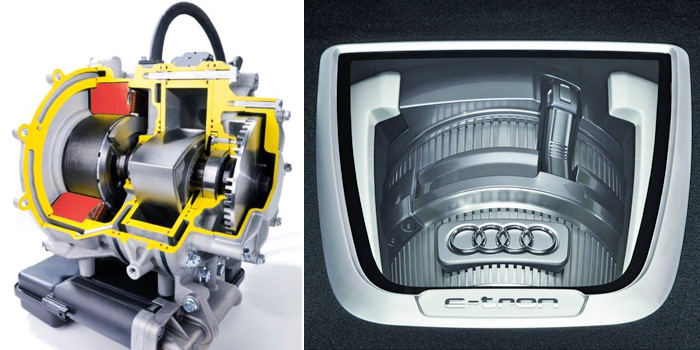 In the image above (on the left) you can see the small Wankel engine. AVL refers to it with the rather descriptive name "chemical-electrical energy converter" (maybe AVL calls its other regular internal combustion engine projects as 'chemical-kinetic energy converters'..). This very compact engine was developed specifically for this application, it has one single rotor and it is closely integrated with an electrical generator. Audi (on the image above-right the engine cover from the e-tron concept) announced at the e-tron's presentation that its RE engine has a capacity of 254ccm which probably applies to all of AVL wankel projects.

This arrangement has already been extensively tested in a electric-range extended prototype called EVARE (Electric Vehicle And Range Extender) based on a MINI (above left). With this car over 150 test drives have been conducted and the company is working on the next iteration, the EVARE2 that may be a pre-production Audi A1 e-tron. In the diagram above right you can see the economic correlation of range and cost for every hybrid/electric concept.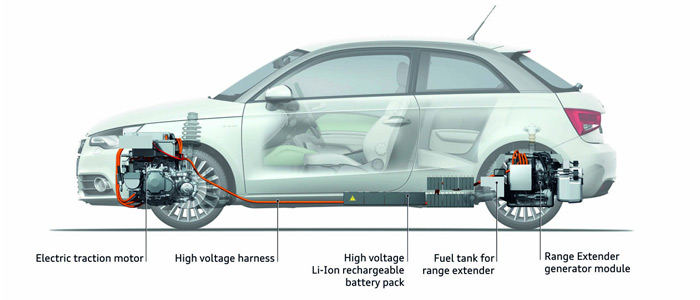 The range extended electric vehicles appear to hit a sweet spot in the spectrum that ranges from very mildly hybrids to fully electric vehicles. AVL is also working towards the more 'conventional' end with a project called AVL turbo hybrid. In most hybrids systems now in production (by Toyota, Honda, GM, Ford, BMW etc) the powertrain is depending mostly on the IC engine, the electric part is used for energy recovery and power assistance. On the other end, purely electric vehicles may be cleaner (at a local basis at least) and more user-friendly but the need for charging stations and the time they need to charge their batteries restrict their use within limited range and mostly pre-planned routes.
Range extended electric vehicles have all the advantages of electric cars without the range anxiety but with the small penalty of carrying a mostly unused IC engine. That is why a wankel engine seems to be the ideal IC engine type for this application. It may not be the most efficient one but its high specific fuel consumption is irrelevant when its only use will be as an emergency measure. Having a given power demand for on-board charging, a wankel engine is by far the most compact and easier to package. Only a turbine may be comparable or smaller in size but its packaging is far more demanding.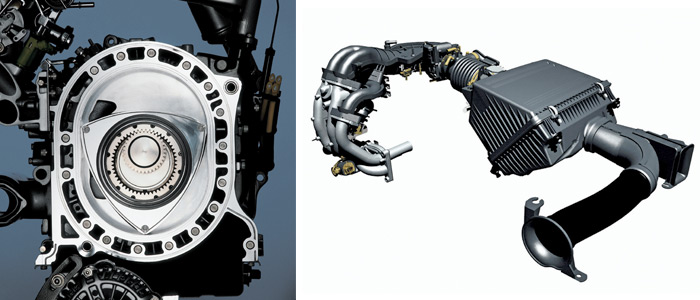 Another small twist of this concept was published on Car magazine; AVL and Audi are cooperating in this project with Mazda, the company with the greatest wankel know-how. However Mazda isn't supplying the engines. AVL states clearly that their engine is completely their own design and as you can see above the Mazda Renesis engine is quite different. Its laterally placed ports and the complex inlet system, the most important improvements of this engine are not featured in the AVL wankel. The latter appears to have radially placed ports and a very compact inlet design. It makes sense because Renesis is optimized towards a very efficient and powerful wankel engine, that even with its bulky inlet/exhaust is much smaller to a reciprocating one. AVL on the other hand just wanted to make the engine as compact as possible.
The most possible scenario is that Mazda is providing their know-how towards one of the biggest problems of the Wankel engine, the apex seals and the lubrication. That is by design a very fundamentally demanding aspect and a newcomer will certainly find difficult. AVL can benefit from Mazda's huge experience and Mazda can take back some of the time, money and effort it has invested for decades in the Wankel engine.
http://www.avl.com
[COLOR="Gray"](photos by Audi, AVL, Mazda)[/COLOR]