A small Dutch company that produces accesories like centerstands,
E.V.A
. is producing the first diesel superenduro. The
T-800CDI
as it is called is about the size of a BMW R1200GS and has a 3 cylinder diesel engine. A Diesel motorbike is a long troubled idea that never caught on. Diesel engines used to be heavy, complicated and underpowered (in a way they still are) and totally unsuitable for a motorcycle. However adventure rallying and the idolized by 'the Long way round' BMW GS made enormous trail bikes very popular. If diesel engines are to become a viable option for bikes a big endure motorcycle is the best first step.---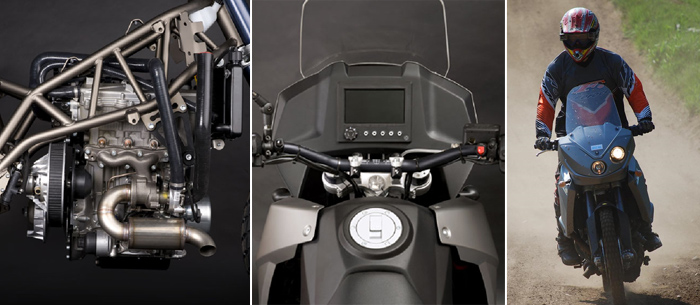 The T-800 has its engine longitudinally mounted and its frame is a bespoke chromoly steel tubular webframe. It has conventional suspension with an USD WP 48mm fork in the front and a single sided arm in the rear. A 2WD hydraulic system (possibly KTM/WP) would also be available as an option. It weighs 225kg, not excessively heavy for its kind.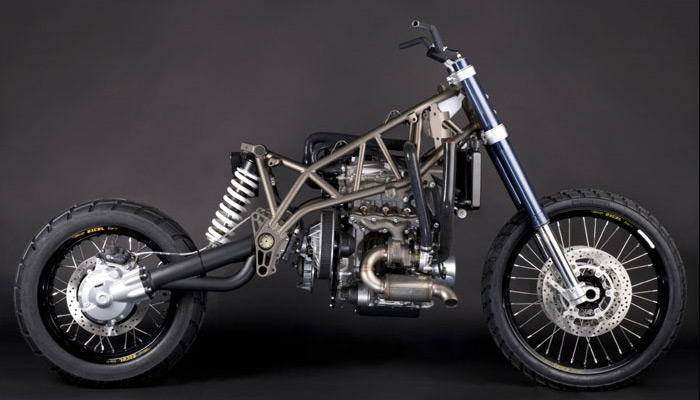 The engine is lifted from the diesel Smart ForTwo. It is a turbocharged 3 cylinder with common rail injection.It has 45hp and can propel the bike to 175kmh with the fuel consumption ranging from 2-3lt/100km. There is a CVT automatic gearbox that transmits the power to the rear wheel through a prop-shaft integrated in the rear swing-arm.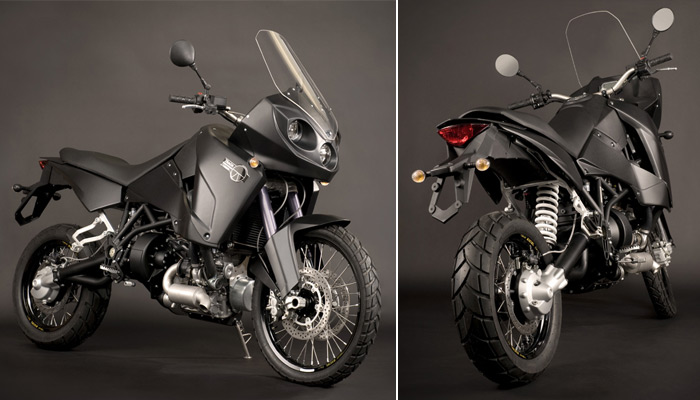 With its big fuel tank and very small fuel consumption the T-800 has very long range and it would be very good for adventure excursions. There is however a small concern, common rail diesels are very sensitive to bad quality fuel (EVA in its website, subtly suggest Shell V-Power diesel as fuel). Where a fuel injected gasoline engine can get through bad fuel with just temporary rough working or -worst case- a tank and fuel line clean-up, a common-rail diesel can have its expensive fuel pump and injectors ruined. EVA should equip the T-800 with whatever filters and protection it can in order for it to be a true adventure bike and not a city poser.
The T-800 is available in selected markets and EVA plans to expand its sales throughout 2010.