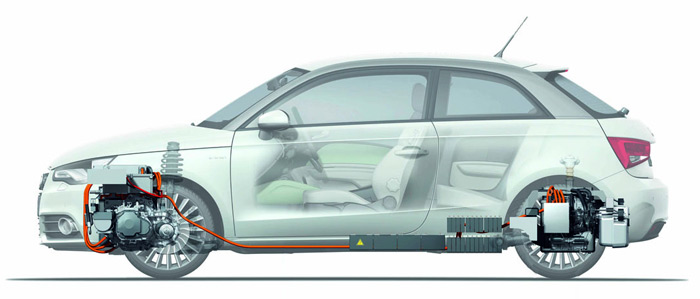 If there is something more trendy than hybrids in the automotive world that should be the range extended electric vehicles. They seem to combine all the advantages of an electric car (quiet, clean, good acceleration, ease of use etc) without the risk of stuck in the middle of nowhere with empty batteries or wait some hours from then to charge when in hurry. Audi has already show 2 'e-tron' concepts but the 3rd one, this A1 e-tron is the most realistic and also the most clever. It is basically an electric vehicle, powered by an array of Li-ion batteries but there is a small internal combustion engine in the back and it is a one-rotor Wankel unit!.---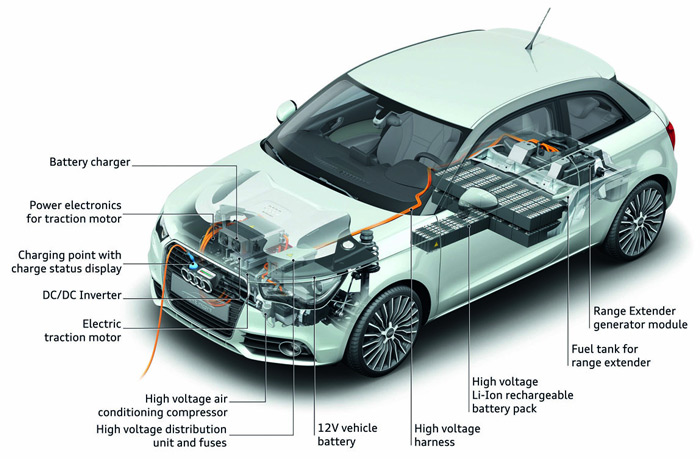 The image above shows the components of the electric propulsion. In the front there is the electric motor that powers the front wheels, the electronics and charging units and also all the auxiliary components of the car (A/C, brake pumps etc). The batteries are below the rear seats and in the back there is the small ic engine module. Power reaches the front wheels only via the electric motor, the ic when needed is used only to charge the batteries.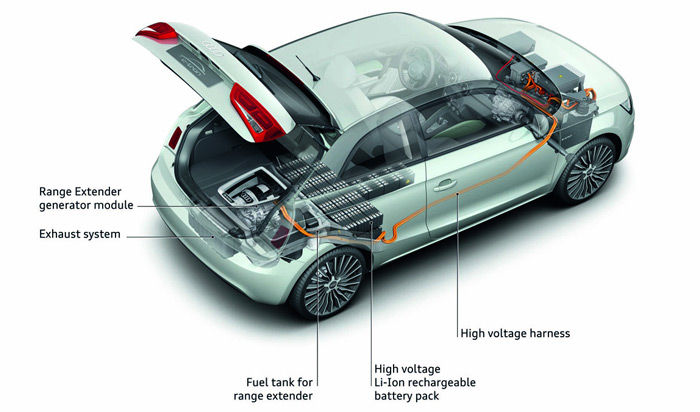 In a regular hybrid the electric motor and the ic engine work together in a way to compliment each other. However in a range extended vehicle the propulsion is mostly electric, the ic engine is there as an emergency feature in order to provide power instantly when the battery charge is low. Considering this, the ic unit on such a vehicle should be very compact and with high power density and a Wankel engine may carry a bad reputation of thirst but is probably the ideal solution.
The most famous and first range extender wannabe, the Chevrolet Volt uses its 1.4lt turbo engine as an auxiliary unit but the volume and the weight of it is unproportional to its role. In the A1 e-tron the Wankel engine with its small fuel tank fills just the underfloor of the luggage compartment (and this is a small car). It has one rotor and only 254ccm of displacement but can provide a respectable 15kW of power.
The A1 e-tron has a maximum speed of more than 130kph and can reach 100kmh in 10.2". It also has a range of 50km with only electric power and more than 250km in total.
This powertrain also provide an excellent weight distribution as you can see from the first photo.
It is worth mentioning that in the metroproject concept (the A1 predecessor) 2 and a half years ago Audi had presented also a hybrid drivetrain but with the exact opposite configuration. In this hybrid the IC engine had the main role (a 1.4TSi in the front) and was complimented by a small electric engine in the back. The new A1 e-tron looks a better compromise and more viable as a final product.