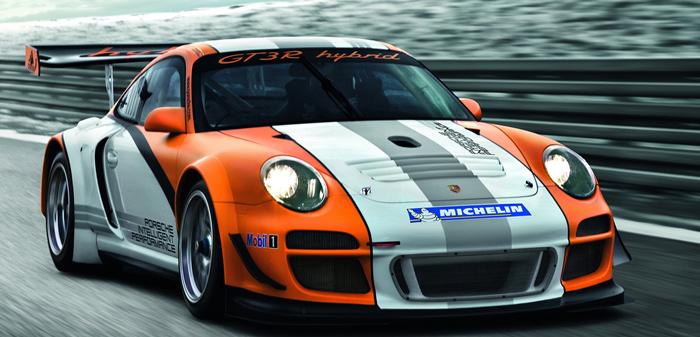 This is Porsche's first hybrid racing car. It is based on the latest GT3 R but under the bodywork has some significant changes. Instead of batteries it has a big flywheel for storing energy and the electric motors are separated from the engine and they drive the front axle. Read below for a more detailed overview.---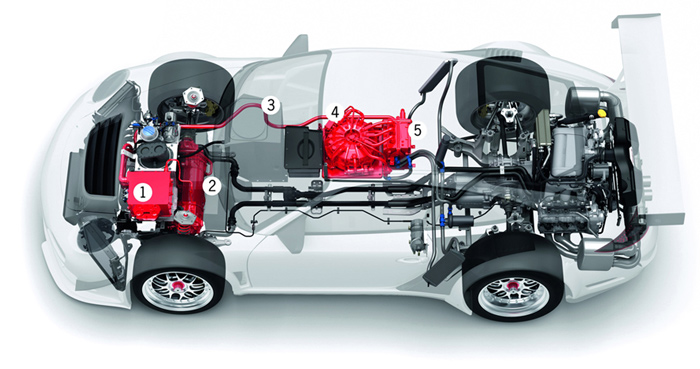 In the image above you can see the system layout with more detail. Where the passenger seat is in regular 911s now there is a big flywheel (4) that can reach up to 40.000 rpm. The power is transferred to and from the flywheel via a high-voltage cable (3). There are two electronic controllers, one near the flywheel (5) and one in the front (1), over the fuel tank. Two electric motors (2) are connected to the front wheels.
The hybrid system stores energy during braking and can provide 161hp (in addition to the maximum 480 of the 4lt flat-6 that powers the rear wheels) in 6-8 seconds bursts when triggered from the steering wheel.
Despite the weight penalty, the hybrid drivetrain will improve dramatically the weight distribution of the rear-heavy 911.

Similar flywheel concepts were introduced last year in Formula 1 but only battery-based ones were eventually used. The difference of Porsche's system is that instead of linking mechanically the flywheel with the transmission via a CVT gearbox it most likely has an electric motor integrated with the flywheel. That eliminates the need for a mechanical linkage and makes the packaging easier.
Flywheel hybrids were developed in the past from Chrysler and one of them the 'Patriot' was about to enter LeMans but it was canceled due to problems with weight and the mechanical linkage of the flywheel with the transmission.
The GT3 R Hybrid will appear in Nürburgring 24 Hours race in May and it will be used as a development vehicle for the speculative official entry of Porsche in 2010 LeMans