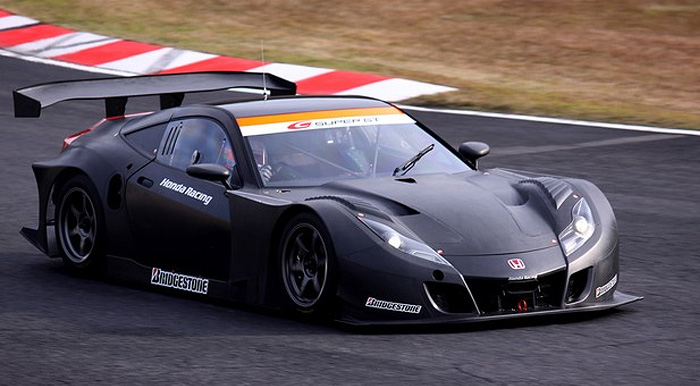 A year after Honda announced that the NSX-successor is cancelled you can see the first photos from the GT500 version of Honda's new HSV-010 GT. The images are from the website
kansenzyuku.com
and were taken yesterday in Suzuka circuit (owned by Honda) where 3 prototypes made some test laps. The HSV-010 GT will compete in 2010
SuperGT championship
, replacing the very succesfull NSX-GT which represented Honda for 13 years and won 37 races.---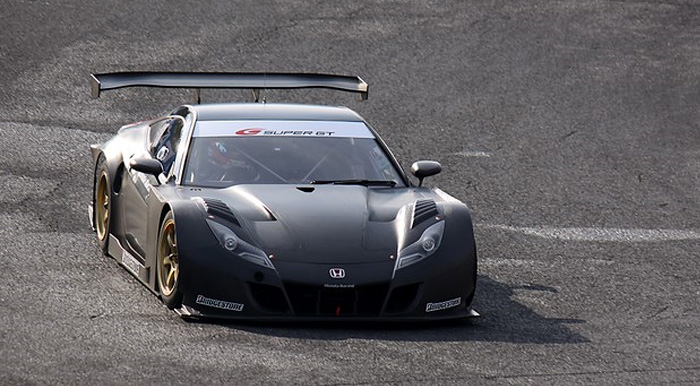 The obvious question is how the car is eligible to compete when there is not a production version. The simple answer is that there is no production version yet. Apparently the rules allow the participation of cars that while they are not in production, they will be available as a street version in the near future.
Honda may have cancelled the HSV (its final name apparently) last year but like the Formula 1 pullout that was mostly a PR movement to distance the company from 'sinister' things like motorsport and sportscars. With prototypes in road and track testing last year, the car was in a very advanced state and it was a big investment to be thrown away. Honda just postponed its showroom appearance for 1-2 years. Details for the road version aren't conclusive, it was supposed to have a V10 or (more likely) a V8 and Honda's excellent SH-AWD. Unlike NSX the engine will be in the front, just behind the front axle.
The HSV-010 GT will have a 3.4lt V8 powering the rear wheels only.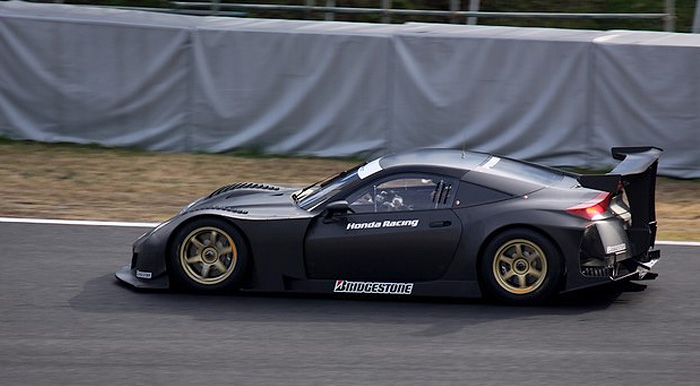 SuperGT rules allow a lot of modifications and these cars may be the fastest GT racecars. The HSV-010 GT has a very aggressive aero package and it should be developed to fully exploit the rules of SuperGT. More details will follow in the next weeks from Honda. The Super GT debuts on March 20-21 in Suzuka.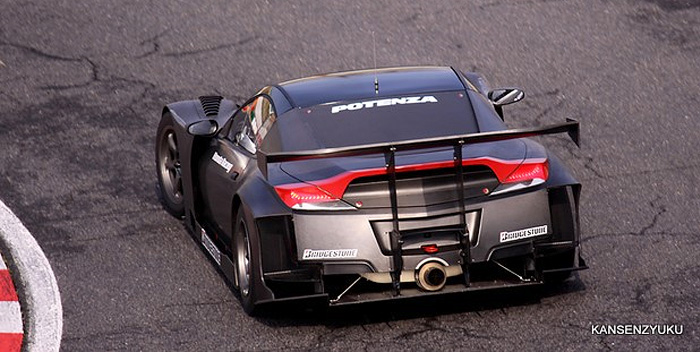 The rear diffuser is very low and its height is probably dictated by the rules and not from the bulky exhaust above it, because its shape and size it really limits the downforce of the rear-end. Watching this last photo I wonder if a double diffuser trick could bypass GT500 rules.
This however may not be the final aerodynamic configuration; we still have 3 months of testing.
The shape of the final road car is visible under the aero parts. It is very similar looking to Ferrari 599 (general shape, doors-!- and front bumper) and not as original as NSX was in its age. Honda will probably place it in the price range of Nissan GT-R or slightly above and it won't be as expensive as a Lexus LF-A.
The HSC concept shown in 2003 in Tokya as a potential NSX replacement was far more adventurous but it had a MR layout instead of the HSV FR.