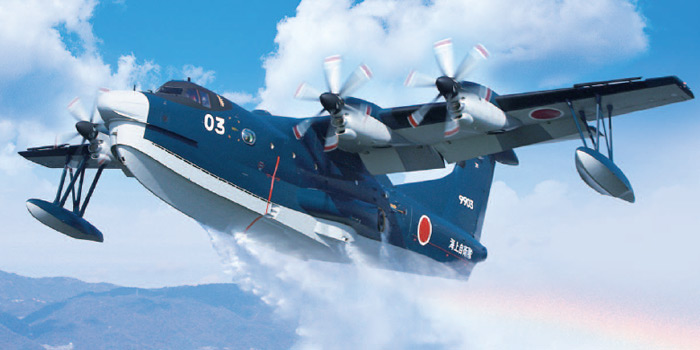 Amphibian aircraft once very popular are nowadays very rare and few companies invest in this sector. One of them is the Japanese ShinMaywa, a firm that deals with various industrial and high-tech applications and aircraft construction. ShinMaywa has a long tradition in amphibious aircraft and the US-2 is its latest product. It is derived from the similarly looking US-1 (for sometime the -2 was called US-1kai - for improved) that first flew in the '70s. It may look similar to older amphibious aircrafts (even the WWII era ones) but the US-2 is a highly advanced aircraft, adapted to its role of maritime patrol, search and rescue and firefighting.---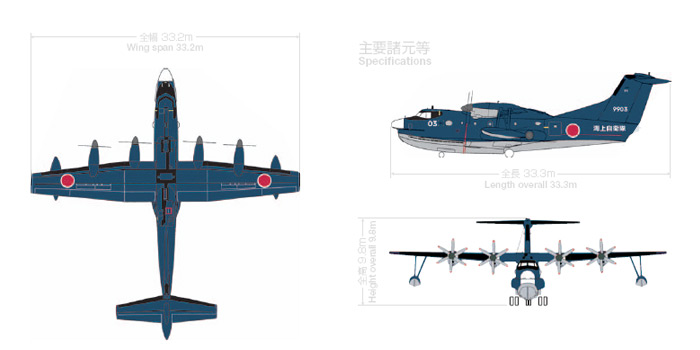 The US-2 has slightly larger wingspan than a Bombardier 415 but it is quite longer and with four Rolls-Royce AE 2100 turboprops that produce 4.600shp each is almost 4 times as powerful. It has state of the art subsystems that include fly-by-wire flight control system, a full glass cockpit and pressurized cabin, necessary for its cruising altitude of 20.000ft.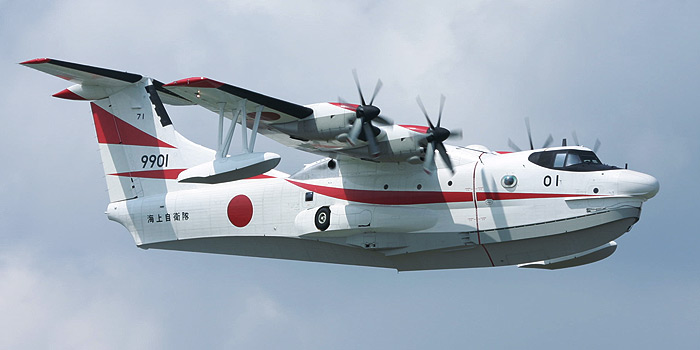 In its firefighting role it has very competitive specs. With a maximum speed of 580kph and a 15t of water as payload it is much more capable than the Bombardier 415 (375kph and 6.2t respectively) and comparable to the faster but with smaller payload Beriev Be-200 (714kph, 12t). However it is quite expensive at approximately $75m which is 2-3 times the cost of its competitors. This cost is justifiable by its performance and multi-role capabilities and could be lowered significantly if it is exported as a finished product and escape the Japanese military and its complex funding process.

A significant characteristic of the US-2 is the boundary layer control system that provides the aircraft with excellent STOL capabilities. You can see the general layout in the very cartoonish diagram above (I can't imagine a non-Japanese company to have graphics as cool as these!). There is a dedicated turbine (a converted LHTEC T800 helicopter turboshaft) that provides flow through a system of pipes and ducts. The momentum that is introduced in the blown flaps and high-lift surfaces keeps the boundary layer attached and diverts the flow downwards thus providing lift in speeds where normally the wing should stall.
The US-2 first flew in 2003 and it is currently operational and in a very low rate production (like most Japanese defense projects), only 3 have already been built.
ShinMaywa website:
http://www.shinmaywa.co.jp