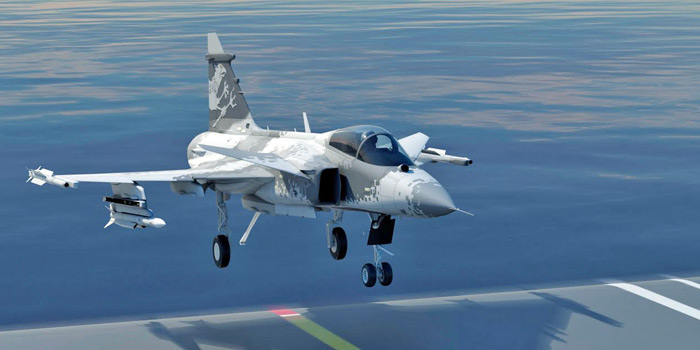 India is releasing a request for proposals for carrier based fighters and SAAB is considering a naval based Gripen for the competition. The Sea Gripen will be based in the recently revealed Gripen NG. Modifying a land based fighter plane for carrier use is quite difficult. SAAB will also face competition from the already carrier proven naval version of Rafale, and F/A-18 E/F. The Russian Su-33 and Mig-29K could also compete but the Indian navy is a launch customer of the latter and this program faces a lot of difficulties.---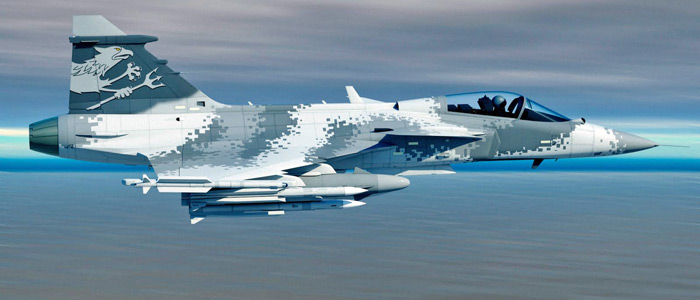 The Sea Gripen would have a -reasonable- 400kg weight penalty because of the beefier frame, arrestor hook and front landing gear for catapult launching. The small size of Gripen does not require folding wings, probably the most difficult aspect of a land to carrier conversion. The Sea Gripen will have a MTOW of 16,500kg and a maximum landing weight of 11,500kg. It will be able of short-take off / catapult assisted take - off and arrested recovery.
The naval conversion is facilitated from the inherent characteristics of the Gripen (and especially the NG version). The Royal Swedish Air Force Gripen demanded the Gripen to be easily maintained on the field and deploy on road based temporary airports in case of war. To fulfill these requirements Gripen has already a very sturdy airframe and can take-off and land in short distances.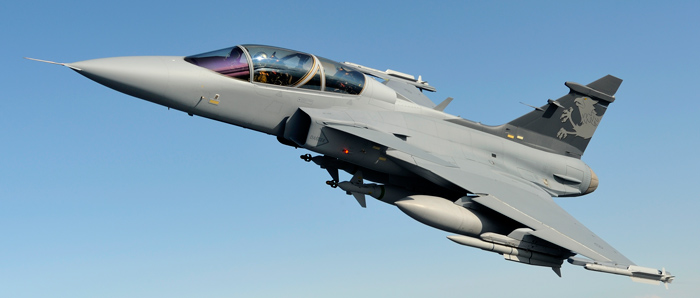 The new NG (photo above) version has two major differences. It uses the more powerful GE/Volvo Aero F414 engine instead of the older RM12 (based on the F404) and it has new landing gear that helps incorporate an additional fuel tank. In the image below there is a comparative sketch of the Gripen (left) and Gripen NG (middle) and also the new fuel tank in the middle of the fuselage with the new landing gear (right).

via
Ares Blog
(Images from SAAB)
(update) -
Navalised Eurofiighter Typhoon for India