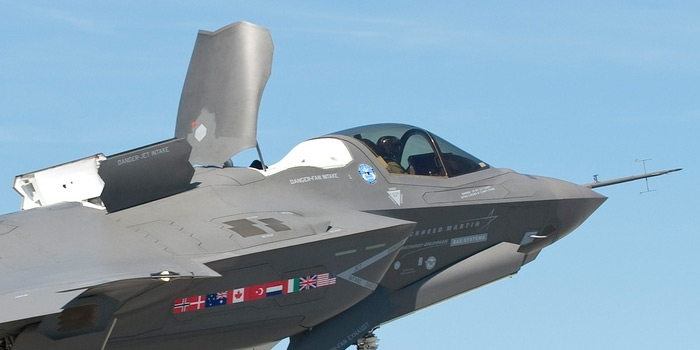 Update
: 18 March - The first vertical landing took place today when pilot Graham Tomlinson landed the BF-01 to a square of only 95sq.ft in the runway in Patuxent River NAS.
17 March - Today the BF-01 prototype of F-35 made its first hover in flight and also its first short take off. This is a major milestone and accomplishment to the program and it paves the way to the most difficult task to be tested, the vertical landing. Read below for more information and videos.---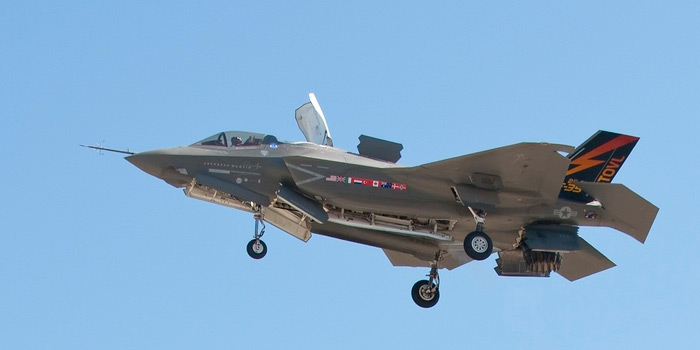 The BF-01 piloted by Graham Tomlinson initiated a conversion to STOVL at airspeed of 200knots. The airspeed gradually reduced from 60knots to zero and the aircraft hovered at 150ft above the runway. The hovering lasted about two minutes and the pilot tested some basic points of the specific flight envelope. Then the aircraft moved forward in order to land in STOVL mode with airspeed of only 70 knots.
The F-35B is largely automated in hovering because the flight envelope is very specific. It cannot roll in high angles with minimum or zero airspeed like a helicopter and it uses a very fast reaction control system in order to maintain its position. [update] Graham Tomlinson who performed these tests, a retired Royal Air Force fighter pilot, mentioned the very low workload of the F-35B in comparison to the legacy Harrier fighter jets.
The BF-01 also made its first short take off and become airborne after only 1000ft while moving at 100knots.
Video of the hovering:
http://www.youtube.com/watch?v=f7BUuCeLPSg
Video of the short take off:
http://www.youtube.com/watch?v=nptpR11liZM
Video of the first vertical landing :
http://www.youtube.com/watch?v=r-cM3wPpCPw
Vertical landing press release:
http://www.lockheedmartin.com/news/press_releases
(via
Ares blog
and Lockheed Martin)
F-35B - first flight in STOVL mode