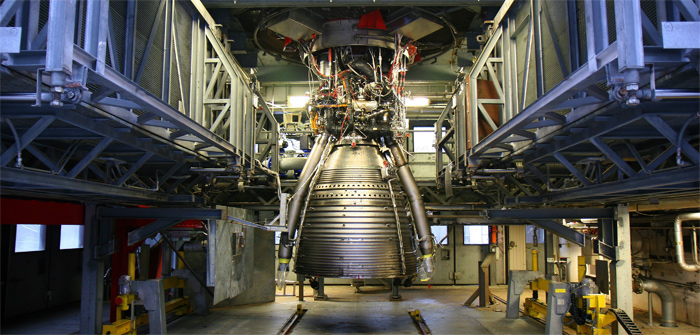 The German aerospace institute DLR successfully concluded the first series of tests of the new sandwich nozzle destined for the Vulcan 2 engine that propels the Ariane 5. The new technology nozzle is called NE-X and is designed and constructed from Volvo Aero under contract from SNECMA. Volvo Aero is a pioneer in this design and has a contract for Pratt & Whitney Advanced Rocket Technology Demonstrator Engine which have already been tested and also for the construction of of this booster nozzle demonstrator for a future upgrade of the Vulcan 2 engine.---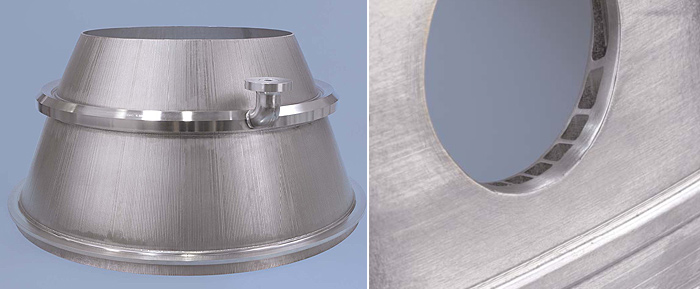 The NE-X is a high-pressure regeneratively cooled sandwich nozzle. Its main design feature is a double wall construction that replaces the complex ducts and pipes. It is constructed with a patented from Volvo Aero method with laser welding and Metal Deposition (MD). The sandwich nozzle is lighter, cheaper and more efficient. You can see in the image above the finished part (left) and a cutaway that shows the internal channels (right).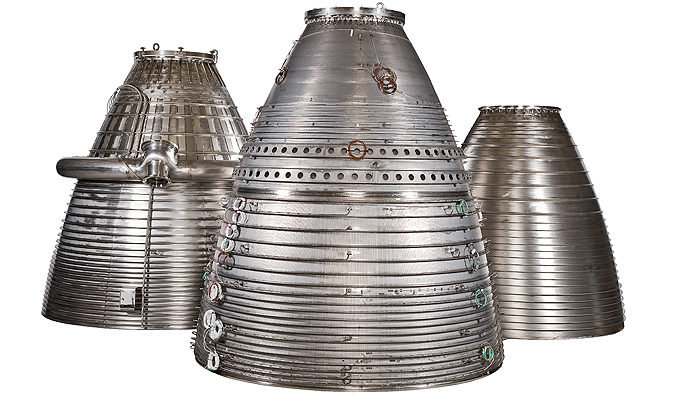 In the photo above (by Peter Wahlström via Volvo Aero) in the middle the Vulcan 2 Sandwich nozzle (NE-X), in the left the Vulcan 2 conventional nozzle (notice the more complex cooling pipes) and on the right the older Vulcan nozzle.
The NE-X nozzle will need a lot more work in order to achieve full verification. The tests on DLR facilities will be used to verify the numerical simulation and are a very important milestone. The very big and powerful nozzle was very difficult to test in DLR's facilities in Lampoldshausen because of its size and the huge exhaust plume it produces.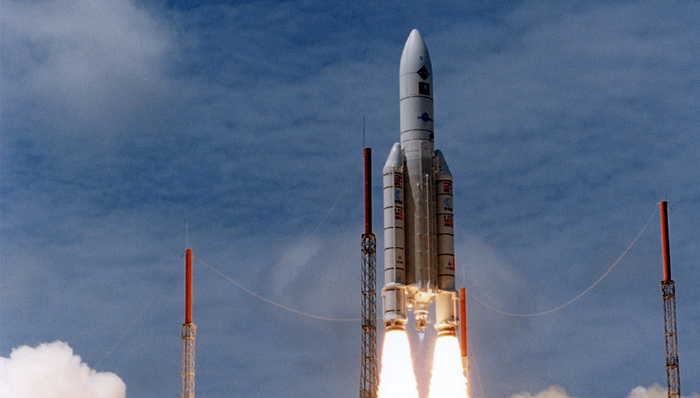 The new nozzle will be used in Arianespace Ariane 5 upgrades or future vehicles.
For further information and images:
DLR tests press release:
http://www.dlr.de/
Volvo Aero pdf document on sandwich nozzle technology:
http://www.volvoaero.com/
Volvo Aero pdf document on Vulcan 2 nozzle:
http://www.volvoaero.com/
Volvo Aero space propulsion products:
http://www.volvoaero.com/
(first photo DLR, last photo Arianespace, other images Volvo Aero)