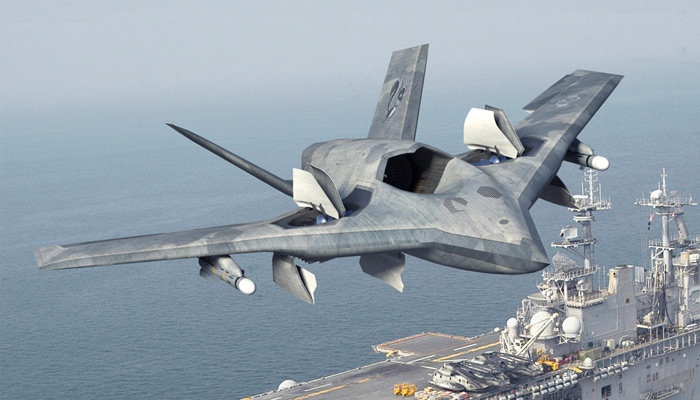 One of the most attention grabbing concepts in the recent AUVSI symposium (the biggest in the UAV community) was the
VARIOUS
by
Lockheed
. Its name must be one of the most elaborate (or silly) and stands for "VTOL Advanced Reconnaissance Insertion Organic Unmanned System". As its name suggests it is a VTOL aircraft that can perform various missions and can be operated from sea vessels. Its main technology point is the fan in wing (or vertifan) that allow it to take off and land vertically.---

The VARIOUS has an arrangement similar to that of the F-35B. It has a single turbofan engine and two fans blended in the plane of the wing. The F-35B uses just one fan behind the cockpit but the principle is similar. The aircraft reveals the fans by opening their hinged covers and by engage them and diverting the main exhaust it can take off or land vertically. In the air it gradually transitions to a conventional aircraft mode and can travel with a speed up to 320 knots. This speed is similar to that of a V-22 and it is somehow lower than the very swept wings suggest. As mentioned by
Bill Sweetman in his post
the wings are formed like this to balance the airframe and the big V-tail is there not for agile maneuvers but for sufficient control during the transition phase.

As you can see from the video below, the VARIOUS UCAV is destined to perform a great variety of missions. Apart from the VTOL capability it has an internal weapons bay (along with a retractable machine gun!) and also retractable reconnaissance pod with a movable turret equipped with cameras and sensors. It can also carry external payload, ex missiles.
Far more realistic concepts failed to enter even an experimental prototype stage. The VARIOUS is very ambitious although it doesn't use any new or groundbreaking technology. Every one of its components is tested or currently under development. However large UAVs in naval use are in their early stage of use and too many things can derail the budget or timetable on a complex project like this. Its overall performance is also questionable. The small wingspan and general planform are far from ideal for long loitering. The two big fans are also complex and heavy while they leave little room for fuel tanks. The vertical take-off and landing while more efficient than a jet configuration (like the Harrier), it is more energy consuming than a tiltrotor or a helicopter. Hovering is also out of the question. The VARIOUS most possibly will remain a paper concept.
The fan in wing had been tried in the past, the best example is the
Ryan XV-5 Vertifan
: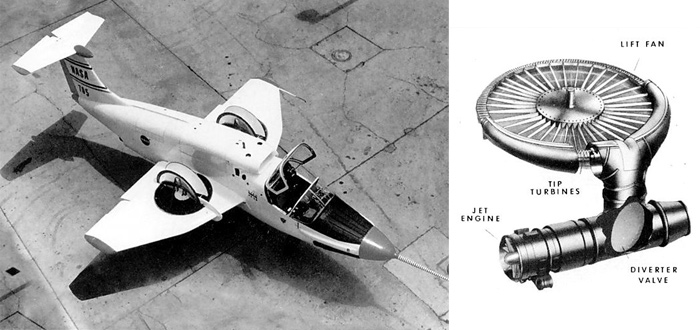 Instead of a shaft driven fan like the F-35B it used ducts that diverted high-pressure gas from the engine to the fans. Vanes in those ducts controlled the rpm of the fans and additional control came from the active louvers in the downstream. The VARIOUS if ever reach a prototype it most possibly use a shaft and clutch but the simpler Ryan system may also be a candidate.
Fact sheet from Lockheed:
DS-ADP-VARIOUS.pdf