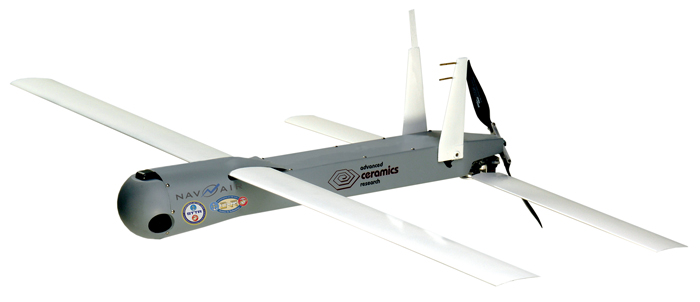 The Coyote is an expendable air launched UAV designed by
Advanced Ceramics Research
(now a subsidiary of BAE Systems). It was initially developed from US Navy's Office of Naval Research and it could be used in military applications and atmospheric and climate scientific research missions. The Coyote is packaged in a cartridge and it is launched by air like a Sonobuoy from a P-3 ASW aircraft. It is deployed with a help of a parachute and when fully retracted it has a wingspan of 1.47m. It weighs 5.9kg and has a useful payload of 0.9kg.It can fly for almost an hour.---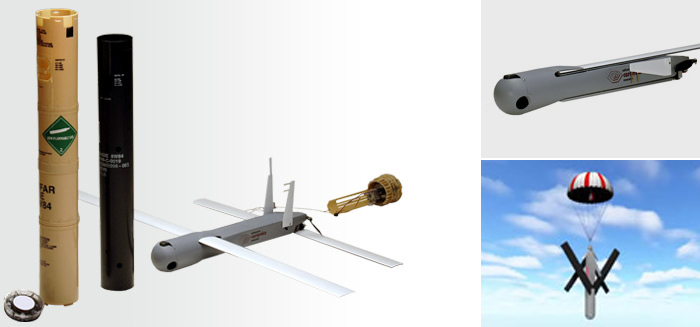 The small aircraft will carry an electro-optical package for surveillance missions in military applications from the US Navy. It will also be used from National Oceanic and Atmospheric Administration (
NOAA
) for weather research. As such it will carry a NOAA designed meteorological sensor and will be launched from NOAA's WP-3D aircraft.
Coyote has a navigation system that uses GPS and its internal inertial navigation unit. It can follow a pre-determined path or can be controlled from the release aircraft.
It has already been tested by being deployed from a Beechcraft C-12 three years ago and possibly later this year it will fly missions for NOAA.
Cartridged deployable UAVs will become more and more popular because of their flexibility of operation. A similar concept is the ScanEagle Compressed Carriage (SECC) from Boeing/Insitu although that is a bigger class UAV that can be recaptured.
It is worth noticing that big defence companies like BAE Systems or Boeing are preferring absorb smaller innovating ones like ACR or Insitu than developing their own technology in this field.
The official website:
http://www.acrtucson.com
Animation showing the deployment:
http://eon.businesswire.com
additional info:
http://www.flightglobal.com