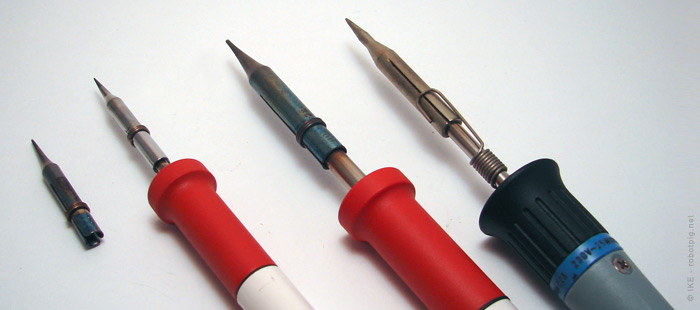 Some time ago in my second post here I mentioned the selection of soldering irons I used. Then I thought the a small iron of 11W with the thinnest tip I could find would be perfect for soldering small and tightly packaged parts. It seems logical enough and soldering through damaged PCBs for practice it was ok. However while building the Mintyboost kit I noticed that the small 11W gun took a very long time to heat the soldering wire and it could fry the part or make a bad weld.---
Through this time I am a bit more experienced so when I switched to my old 26W iron I found that the process was much faster and with better quality welding. I have read in many websites that you don't need a very small tip to weld tiny parts and it seems that they are right. A larger iron heats itself and the part/wire more easily and also provides a larger surface with better heat transfer. Unless you have an adjustable soldering station a medium iron of ~25W seems the best tool if you invest some time and learn the necessary skill. I also use very thin wire that helps avoiding a clumsy weld. In the photo above from the left the 11W iron with the smaller tip and in the right the 26W JCB and a similar (and I think slightly better) ERSA 920BD 25W which I now use.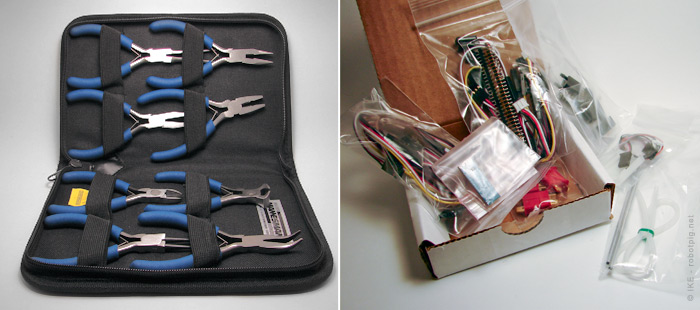 Also very useful is this set of various pliers. I bought it from a local store for 18 euros and they may have a large sticker with the word GERMANY over it but they are made in Taiwan (or China). They are of adequate quality however. In the image on the right there is a package from the
DIYdrones store
from where I bought some parts. I choose the cheapest post option and the parts arrived in only 8 days (from USA to Greece). I also bought parts from
Adafruit
and
Sparkfun
and it took exactly the same time. Unless you buy something very expensive the risk of loosing it is smaller than the secure posting fee and ~10 days is a reasonable amount of time.
In my next post I hopefully write about some more interesting stuff than soldering irons and pliers!
Related links:
(very) basic soldering - the tools