In the beginning of this article we mentioned the importance of the wheel diameter and the transmission gearing. They considered equally important to the engine power delivery characteristics and in the examples below we can see why.
final gearing alteration
We can alter the final gear reduction ratio either by altering the wheel diameter and/or by changing the differential reduction ratio (cars) or the final gear (bikes).
These changes have the same qualitative result; we will examine the most simple. We can have 'higher' overall gearing if we increase the diameter of the wheels. That produces a stretched to the right and lower thrust curve diagram: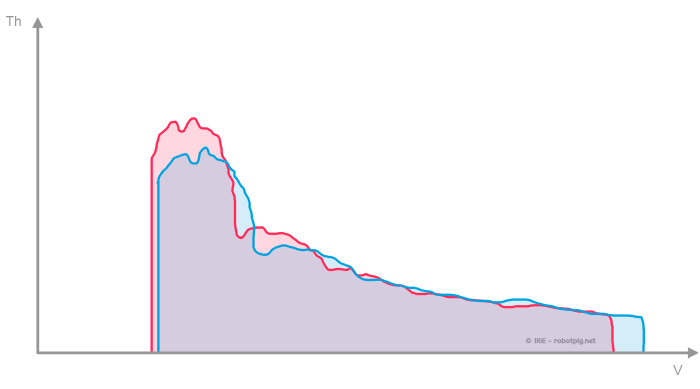 We sacrificed the amount of the available thrust in lower speed but the available thrust in higher velocities has increased. The performance of the car is in effect optimized for higher velocities.
Gear ratio 'density' alteration
Altering the gearbox reduction ratios of every gear can change the thrust curves. There is no optimum recipe that dictates close ratio box as better or worse. The purpose of the transmission is to match the performance characteristics of the engine to the velocity span that the vehicle will operate. Below is the comparative of a normal gearbox in relation to a close-ratio version of its gearing.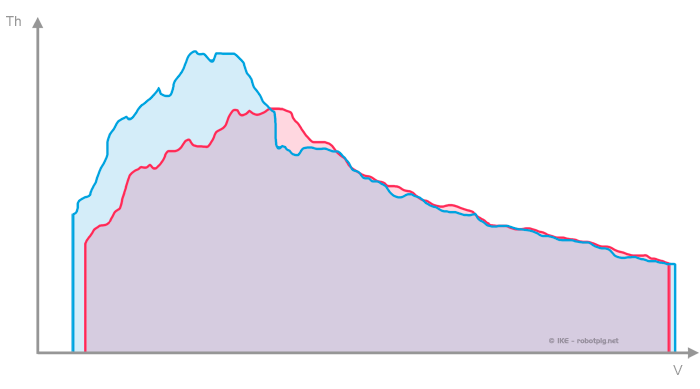 Close ratio gearing produces more even thrust curves with smaller 'steps' at the expense of a more narrow operation span. By carefully selecting the gearing we can focus to the velocity area that is of more interest.
Racing gearbox usually have cogs that can usually be changes in order to adapt the gearing to every track or race in order to have the best possible performance.